Structure
Good trailers get to the point quickly. In the first 20 seconds, this trailer quickly shows off the main selling point of the entire Battlefield franchise; vast arenas where infantry, armor and air forces all interact with each other in fierce battles. Even if you've never heard or seen anything related to Battlefield, this trailer shows you exactly what you can expect in less than 20 seconds. If you've noticed, this introduction doesn't show any actual gameplay however, there isn't a single first person shot in there. That's because the hook is emotional.
Advertising is in big part about selling an idea and on a more deeper level, a feeling. In fact the entire trailer only has 3 short shots of what can constitute actual gameplay, totalling just about 2.5 seconds in length. Clearly the objective of the trailer was to sell the feeling of a battlefield itself.
The only shots in the entire trailer that could be interpreted as actual gameplay .
Good trailers have contrast. High points and low points. This trailer has two distinct break points, driven by the music, that serve as jump off points from which to ramp up intensity. After the above introduction and a short breather, momentum to kick things into high gear is literally shouted at the viewer by a soldier: "Move up, forward!" can be heard during the Awards screen, just before the main section of the trailer shoots off an incredibly well done sequence of shots.
The audience at this point is fully engaged and taking in a well crafted spectacle. Some gameplay related elements can be seen but mostly it's about emotional validation. Seeing familiar sights triggers memories from previous Battlefield games that provided great, exciting moments to the player. This central body of the trailer also has interspaced title screens with quotes from major publications.
Interesting.
About time.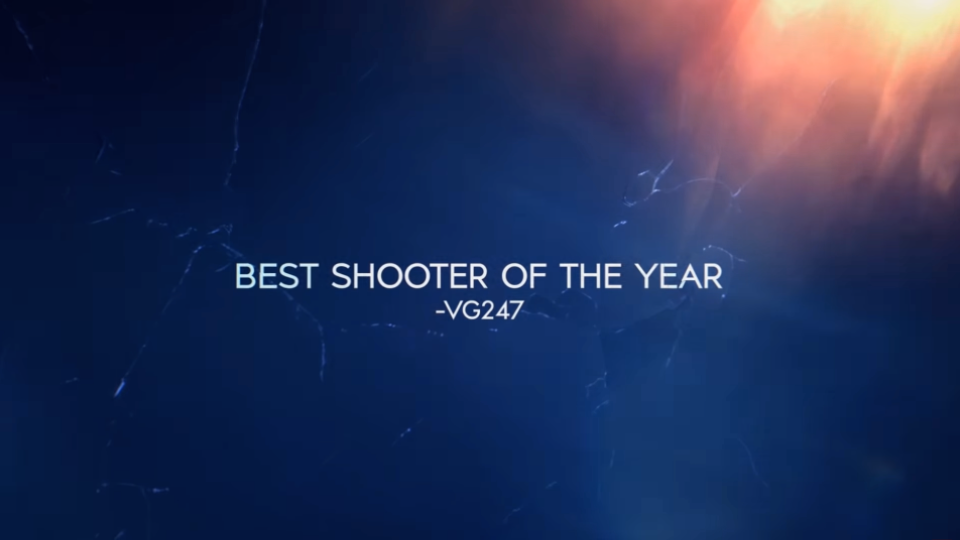 Hell yeah.
The quotes play an important role. People who enjoy a game series want to see it succeed, reading quotes from important publications validates this desire to return to the Battlefield "club". The trailer crescendos into an explosion and one final quote, the clearest of them: "Best shooter of the year".

Nuff said.

This is the second breakpoint. The music goes into a slight pause and rises again for one final short bang that caps off the trailer.